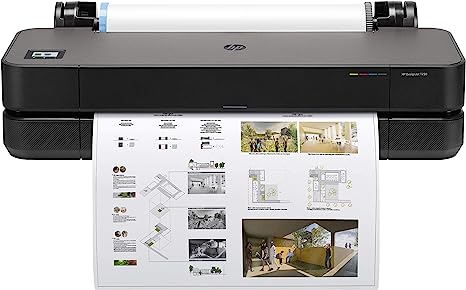 HP DesignJet T230 Large Format 24-inch Plotter Printer, with Modern Office Design (5HB07A)

Additional information
| | |
| --- | --- |
| Product Type | Printer |
| Model Number | HP DesignJet T230 |
| Printing Color | Colored |
| Functions | Print |
| Color | Black |
| Warranty Period | 24 Months |
| Part Number | 5HB07A |
| Brand | HP |
Description
Ideal for: Technical line-drawings, blueprints, posters, indoor signage, maps, sewing patterns, and other professional wide or large format prints. This printer is popular among architects, engineers, construction industry professionals.
Media sizes: Up to 24-inch wide media rolls (large format), and up to 13-inch by 19-inch sheets (wide format) using the optional automatic sheet feeder accessory.
Media Handling: Sheet feed, roll feed, automatic horizontal cutter.
Simple & Cost Effective: Print multi-size projects automatically, without needing to manually switching the media source. Cost saving efficiencies like using 95% less ink for routine maintenance vs. other competitor plotter printers.
Included Software: HP Click (for creating eye-catching posters), HP Smart app, HP Print Preview for Windows, HP Easy Start, HP DesignJet Utility for Windows, HP Support Assistant.
Connectivity: Gigabit Ethernet (1000Base-T), Hi-Speed USB 2.0, Wi-Fi 802.11 b/g/n.
Print Speeds & RAM: Up to 35 seconds per page on A1/D size, 68 A1/D size prints per hour. 500MB memory.
1-Click Printing from Anywhere: Print multiple files in as little as one click. Manage your large format printing and printer virtually anywhere and anytime with the HP Smart app, from your smartphone, tablet, or desktop computer. HP/GL-2 support.
HP DesignJet Ink which works with this T200 Series printer: HP 712 Original Ink cartridges (Black, Cyan, Magenta, Yellow), and HP 713 Printhead.
Support: One-year limited hardware warranty included. Friendly large format printing experts are only a phone call away to help with product setup and support questions.
Only logged in customers who have purchased this product may leave a review.
Quick Comparison
Settings
HP DesignJet T230 Large Format 24-inch Plotter Printer, with Modern Office Design (5HB07A)

remove

HP Ink Tank Wireless 415 Printer (Z4B53A)

remove

HP Smart Tank 530 Wireless All-in-One PRINTER (4SB24A)

remove

Canon i-SENSYS LBP223dw Printer (3516C008AA)

remove

Hp Laser 107W Wireless Office Printer - White (4ZB78A)

remove

HP DeskJet Ink Advantage Ultra 4828 Printer (25R76A)

remove

Name
HP DesignJet T230 Large Format 24-inch Plotter Printer, with Modern Office Design (5HB07A)

remove

HP Ink Tank Wireless 415 Printer (Z4B53A)

remove

HP Smart Tank 530 Wireless All-in-One PRINTER (4SB24A)

remove

Canon i-SENSYS LBP223dw Printer (3516C008AA)

remove

Hp Laser 107W Wireless Office Printer - White (4ZB78A)

remove

HP DeskJet Ink Advantage Ultra 4828 Printer (25R76A)

remove

Image
SKU
5HB07A
Z4B53A
4SB24A
3516C008AA
4ZB78A
25R76A
Rating
Price

SAR

708

SAR

1126

SAR

1126

SAR

746
Stock
Availability
Add to cart
Description
Content

Ideal for: Technical line-drawings, blueprints, posters, indoor signage, maps, sewing patterns, and other professional wide or large format prints. This printer is popular among architects, engineers, construction industry professionals.
Media sizes: Up to 24-inch wide media rolls (large format), and up to 13-inch by 19-inch sheets (wide format) using the optional automatic sheet feeder accessory.
Media Handling: Sheet feed, roll feed, automatic horizontal cutter. Simple & Cost Effective: Print multi-size projects automatically, without needing to manually switching the media source. Cost saving efficiencies like using 95% less ink for routine maintenance vs. other competitor plotter printers.
Included Software: HP Click (for creating eye-catching posters), HP Smart app, HP Print Preview for Windows, HP Easy Start, HP DesignJet Utility for Windows, HP Support Assistant.
Connectivity: Gigabit Ethernet (1000Base-T), Hi-Speed USB 2.0, Wi-Fi 802.11 b/g/n.
Print Speeds & RAM: Up to 35 seconds per page on A1/D size, 68 A1/D size prints per hour. 500MB memory.
1-Click Printing from Anywhere: Print multiple files in as little as one click. Manage your large format printing and printer virtually anywhere and anytime with the HP Smart app, from your smartphone, tablet, or desktop computer. HP/GL-2 support.
HP DesignJet Ink which works with this T200 Series printer: HP 712 Original Ink cartridges (Black, Cyan, Magenta, Yellow), and HP 713 Printhead.
Support: One-year limited hardware warranty included. Friendly large format printing experts are only a phone call away to help with product setup and support questions.

Product naming

| | |
| --- | --- |
| Model name | HP Ink Tank Wireless 415 Printer |
| Product number | Z4B53A |

What's included and accessories

| | |
| --- | --- |
| What's in the box | HP Ink Tank Wireless 415; HP GT51 Black Ink Bottle (90CC, 5,000 pages); HP GT52 Cyan Ink Bottle (70CC, 8,000 pages); HP GT52 Magenta Ink Bottle (70CC, 8,000 pages); HP GT52 Yellow Ink Bottle (70CC, 8,000 pages); Software CD; Setup poster; Power cord; USB cable. |

Connectivity

| | |
| --- | --- |
| Ports | 6 Hi-Speed USB 2.0 |
| Wireless capability | Yes |
| Storage device and direct print support | Storage devices not supported |

Copy

| | |
| --- | --- |
| Copier settings | Auto-enlarge |
| Color copy capability | Yes |
| Maximum number of copies | Up to 9 copies |
| Copy reduce/enlarge settings | Fit to page |
| Copy resolution | Up to 600 x 300 dpi |

Environmental

| | |
| --- | --- |
| Acoustic power emissions | 6.0 B(A) |
| Acoustic pressure emissions | 47 dB |
| Operating humidity range | 20 to 80% RH |
| Non-operating humidity range | 5 to 90% RH (non-condensing) |
| Recommended operating temperature range (Celsius) | 15 to 30ºC |
| Recommended operating temperature range (Fahrenheit) | 59 to 86ºF |
| Storage temperature range (Celsius) | -40 to 60ºC |
| Storage temperature range (Fahrenheit) | -40 to 140ºF |
| Environmental specifications | No |

Memory

| | |
| --- | --- |
| Memory | Integrated |
| Maximum Memory | Integrated |

Mobile printing capability

| | |
| --- | --- |
| Mobile printing services | HP ePrint |

Networking

| | |
| --- | --- |
| Network protocols, supported | 9100 Direct IP, LPR, Embedded Web Server, SNMP, SLP, WS-Print |

Paper handling

| | |
| --- | --- |
| Input capacity | Up to 60 sheets |
| Standard input capacity (cards) | Up to 20 cards |
| Standard input capacity (envelopes) | Up to 5 envelopes |
| Standard input capacity (transparencies) | No |
| Output capacity | Up to 25 sheets |
| Media sizes supported (metric) | A4; B5; A6; DL envelope |
| Media sizes supported (U.S. standard) | Letter; legal; 4 x 6 in; 5 x 7 in; 8 x 10 in; No. 10 envelopes |
| Media sizes, custom (metric) | 76.2 x 127 to 215 x 355 mm |
| Media sizes, custom (U.S. standard) | 3 x 5 to 8.5 x 14 in |
| Media types | Plain Paper; HP Photo Papers; HP Matte Brochure or Professional Paper; HP Matte Presentation Paper; HP Glossy Brochure or Professional Paper; Photo Inkjet Papers; Matte Inkjet Papers; Glossy Inkjet Papers |
| Media weight supported (metric) | A4: 60 to 90 g/m²; HP envelopes: 75 to 90 g/m²; HP cards: Up to 200 g/m²; HP 10 x 15 cm photo paper: Up to 300 g/m² |
| Media weight supported (U.S. standard) | 20 lb |
| Borderless printing | Yes, 210 x 297 mm (A4) |

Paper handling - ADF

| | |
| --- | --- |
| Automatic document feeder capacity | No |

Physical dimensions

| | |
| --- | --- |
| Maximum dimensions (W x D x H, metric) | 525 x 553.5 x 256.6 mm |
| Maximum dimensions (W x D x H, U.S. standard) | 20.67 x 21.79 x 10.10 in |
| Weight (metric) | 4.67 kg |
| Weight (U.S. standard) | 10.27 lb |

Power

| | |
| --- | --- |
| Power supply type | Internal |
| Power supply | Input voltage 200 to 240 VAC (+/- 10%), 50/60 Hz (+/- 3Hz) |
| Power consumption | 10 watts maximum, 0.07 watts (Off), 2.1 watts (Standby), 0.88 watts (Sleep) |

Print cartridges

Number of print cartridges

6 black bottle, set of 3 colour bottles

Replacement cartridges

M0H57AE HP GT51 Black Original Ink Bottle (~5,000 pages); X4E40AE HP GT51XL 135-ml Black Original Ink Bottle (~6,000 pages); M0H54AE HP GT52 Cyan Original Ink Bottle (~8,000 pages); M0H55AE HP GT52 Magenta Original Ink Bottle (~8,000 pages); M0H56AE HP GT52 Yellow Original Ink Bottle (~8,000 pages). Average based on ISO/IEC 24711 or HP testing methodology and continuous printing. Actual yield varies considerably based on content of printed pages and other factors. For more information about fill and yield, see 

http://www.hp.com/go/learnaboutsupplies

Printing specifications

| | |
| --- | --- |
| Duplex printing | Manual (driver support provided) |
| Print speed black (ISO) | Up to 8 ppm |
| Print speed color (ISO) | Up to 5 ppm |
| Print resolution (best) | Up to 1200 x 1200 rendered dpi |
| Maximum print area (metric) | 216 x 355 mm |
| Maximum print area (U.S. standard) | 8.7 x 13.97 in |
| Print languages | HP PCL 3 GUI |

Regulatory specifications

| | |
| --- | --- |
| Electromagnetic compatibility | CISPR 22:2008/EN 55022:2010 Class B; CISPR24:2010/EN 55024:2010; EN 61000-3-2:2006+A1:2009+A2:2009; EN 61000-3-3:2013; ICES-003, Issue 5 Class B; GOST (Russia) |

Scan

| | |
| --- | --- |
| Scan technology | Contact Image Sensor (CIS) |
| Scan resolution, hardware | Up to 1200 x 1200 dpi |
| Levels of grayscale | 256 |
| Bit depth | 24-bit |
| Maximum flatbed scan size (metric) | 216 x 297 mm |
| Maximum flatbed scan size (U.S. standard) | 8.5 x 11.69 in |
| Twain version | Version 2.6 |

System requirements

| | |
| --- | --- |
| Minimum system requirements for Windows | Windows 10, 8, Windows 7 Service Pack 1 (SP1): 1 GHz 32-bit (x86) or 64-bit (x64) processor, 2 GB available hard disk space, CD-ROM/DVD drive or Internet connection, USB port, Microsoft Internet Explorer. Windows Vista (32-bit only): 800 MHz 32-bit (x86) processor, 2 GB available hard disk space, CD-ROM/DVD drive or Internet connection, USB port, Microsoft Internet Explorer 8. Windows XP SP3 or higher (32-bit only): any Intel Pentium II, Celeron or 233 MHz compatible processor, 850 MB available hard disk space, CD-ROM/DVD drive or Internet connection, USB port, Internet Explorer 8. |
| Recommended system requirements for Windows | Windows 10, 8, Windows 7 Service Pack 1 (SP1): 1 GHz 32-bit (x86) or 64-bit (x64) processor, 2 GB available hard disk space, CD-ROM/DVD drive or Internet connection, USB port, Microsoft Internet Explorer. Windows Vista (32-bit only): 800 MHz 32-bit (x86) processor, 2 GB available hard disk space, CD-ROM/DVD drive or Internet connection, USB port, Microsoft Internet Explorer 8. Windows XP SP3 or higher (32-bit only): any Intel Pentium II, Celeron or 233 MHz compatible processor, 850 MB available hard disk space, CD-ROM/DVD drive or Internet connection, USB port, Internet Explorer 8. |
| Minimum system requirements for Macintosh | Mac OS X v10.12 (Sierra), v10.11 (EI Capitan), v10.10 (Yosemite) or higher; 1 GB hard drive; Internet access |
| Recommended Macintosh system requirements | Mac OS X v10.12 (Sierra), v10.11 (El Capitan), v10.10 (Yosemite) or higher; 1 GB hard drive; Internet access |
| Compatible network operating systems | Windows 10, 8, Windows 7 Service Pack 1 (SP1), Vista, XP SP3 or higher (32-bit only), Win Server 2008 R2 and higher (via the command line installer), Mac OS X v10.12 (Sierra), v10.11 (El Capitan), v10.10 (Yosemite) |

Warranty

| | |
| --- | --- |
| Warranty | One-year limited hardware warranty |

Specifications
Product Code
4SB24A
Functions
Functions
Print, scan, copy, ADF, wireless
Multitasking supported
No
Printing specifications
Print speed black
ISO: Up to 11 ppm
Draft: Up to 22 ppm
Print speed color
ISO:Up to 5 ppm
Draft:Up to 16 ppm
First page out (ready)
Black: As fast as 14 sec
Color: As fast as 21 sec
Duty cycle (monthly, A4)
Up to 1000 pages
Recommended monthly page volume
400 to 800
Print technology
HP Thermal Inkjet
Printer drivers included
HP PCL 3 GUI
Print quality (best)
Color: Up to 4800 x 1200 optimised dpi colour (when printing from a computer and 1200 input dpi)
Black: Up to 1200 x 1200 rendered dpi
Display
5.58 cm (2.2 in) MGD (Monochrome Touchscreen)
Processor speed
1.2 GHz
Number of print cartridges
4 (1 each black bottle, set of 3 color bottles)
Print languages
HP PCL 3 GUI
Automatic paper sensor
No
Replacement cartridges
HP GT53 90-ml Black Original Ink Bottle 1VV22AE
HP GT53XL 135-ml Black Original Ink Bottle 1VV21AE
HP GT52 Cyan Original Ink Bottle M0H54AE
HP GT52 Magenta Original Ink Bottle M0H55AE
HP GT52 Yellow Original Ink Bottle M0H56AE
HP GT51XL 135-ml Black Original Ink Bottle X4E40AE.
Connectivity
Wireless capability
Yes, built-in dual band Wi-Fi 802.11b/g/n, Wireless direct, BLE
Connectivity, standard
Hi-Speed USB 2.0, Wi-Fi, Bluetooth LE
Connectivity, optional
None
Minimum system requirements
Windows 10, 7: 1 GHz 32-bit (x86) or 64-bit (x64) processor, 2 GB available hard disk space, Internet connection, USB port, Internet Explorer 8.
OS X v10.11 El Capitan and above, Internet Access
Compatible operating systems
Windows 10, 7
OS X v10.11 El Capitan, macOS Sierra v10.12 (previously OS X), macOS High Sierra v10.13, macOS Mojave v10.14
(Windows 10, 7; OS X v10.11 El Capitan, macOS Sierra v10.12 (previously OS X), macOS High Sierra v10.13, macOS Mojave v10.14)
Mobility
Mobile printing capability
HP Smart app
Apple AirPrint
Fire
Google Cloud Print 2.0
HP ePrint
Android printing
Mopria -certified
Memory specifications
Memory, standard
256 MB
Integrated memory
Maximum Memory
256 MB
Paper handling
Paper handling input, standard
100 sheet input tray
Paper handling output, standard
30-sheet output tray
Duplex printing
Manual (driver support provided)
Media sizes supported
A4
B5
A6
DL envelope
Media sizes custom
76.2 x 127 mm to 215.9 x 355.6 mm
Media types
Plain Paper, HP Photo Papers, HP Matte Brochure or Professional Paper, HP Matte Presentation Paper, HP Glossy Brochure or Professional Paper, other Photo Inkjet Papers, other Matte Inkjet Papers, other Glossy Inkjet Papers, Inkjet Hagaki, Plain Paper, Thick, HP Tri-fold Brochure Paper, Glossy, Light/Recycled
Media weights, recommended
75 g/m²
Media weights, supported
Plain paper: 60 to 90 g/m²; Envelopes: 75 to 90 g/m²; Cards: up to 200 g/m²; Photo paper: up to 300 g/m²
Borderless printing
Yes (up to 8.5 x 11 in, 210 x 297 mm)
Scanner specifications
Scanner type
Flatbed, ADF
Scan file format
JPG, BMP, TIFF, PDF, RTF, TXT, PNG
Scan resolution, optical
Up to 1200 dpi
Bit depth
24-bit
Scan size, maximum
216 x 297 mm
Scan size (ADF), maximum
216 x 356 mm
Automatic document feeder capacity
Up to 35 sheets
Digital sending standard features
Everyday scan (scan to PDF)
HP Smart Tasks
File Format Supported
BMP
PDF
JPG
PNG
TIF
Scan input modes
Front Panel Scan; Copy; HP Software; EWS
Scan speed (normal, A4)
Up to 3 ppm (200 ppi, colour), Up to 5 ppm (200 ppi, monochrome)
Copier specifications
Copy speed (draft)
Black: Up to 22 cpm
Color: Up to 14 cpm
Copy resolution (black text)
Up to 600 dpi
Copy resolution (color text and graphics)
Up to 600 dpi
Copies, maximum
Up to 99 copies
Power and operating requirements
Power
Input voltage 100 to 240 VAC (+/- 10%), 50/60 Hz (+/- 3 Hz). High voltage: Input voltage 200 to 240 VAC (+/- 10%), 50/60 Hz (+/- 3Hz)
Power consumption
0.11 watts (manual-off), 3.72 watts (ready), 0.83 watts (sleep)
Operating temperature range
5 to 40°C
Recommended operating humidity range
20 to 80% RH
Dimensions and weight
Minimum dimensions (W x D x H)
449 x 373 x 198 mm
Maximum dimensions (W x D x H)
449 x 605.65 x 258.7 mm
Weight
6.19 kg
Package weight
8.5 kg
What's included
What's in the box
HP Smart Tank 530
3 x HP GT53XL 135-ml Black Original Ink Bottle
HP GT52 Cyan Original Ink Bottle
HP GT52 Magenta Original Ink Bottle
HP GT52 Yellow Original Ink Bottle
Ink caution flyer
Repacking flyer
Setup guide
Reference guide
Regulatory flyer
PT flyer
RoH-EAC Regulatory flyer
Power cord
Extended warranty flyer
For more information about fill and yield, see http://www.hp.com/go/learnaboutsupplies
Cable included
No, please purchase USB cable separately
Software included
None - available from http://www.support.hp.com/drivers

CONTROL: Universal Login Manager (LBP228x)
INTUITIVE CONTROLS: 12.7cm touchscreen (LBP228x)
SECURITY: PIN document release (LBP226dw & LBP228x)
FAST PRINT SPEED: 38ppm single sided A4 (LBP226dw & LBP228x)
APPLICATION LIBRARY: customisable on screen application (LBP228x)
PRODUCTIVITY: Automatic double-sided printing
3516C008AA

| | |
| --- | --- |
| Model name | HP Laser 107w |
| Product number | 4ZB78A |

What's included and accessories

| | |
| --- | --- |
| What's in the box | Preinstalled introductory HP LaserJet Black print cartridges (~0.5K pages, WW); Setup Guide; Reference Guide; Regulatory Statements Flyer; Power cord; USB cable |

Connectivity

| | |
| --- | --- |
| Ports | Hi-Speed USB 2.0 port, Wireless 802.11 b/g/n |
| Wireless capability | Yes, built-in Wi-Fi 802.11b/g/n |

Environmental

| | |
| --- | --- |
| Acoustic power emissions (active, printing) | 6.5 B(A) |
| Recommended operating humidity range | 20 to 70% RH (non-condensing) |
| Recommended operating temperature range (Celsius) | 15 to 27°C |
| Recommended operating temperature range (Fahrenheit) | 59 to 80.6°F |
| Storage temperature range (Celsius) | -20 to 40°C |
| Storage temperature range (Fahrenheit) | -4 to 104°F |
| Environmental specifications | Mercury free |

Memory

| | |
| --- | --- |
| Memory | 64 MB |
| Maximum Memory | 64 MB |
| Memory card compatibility | None |

Mobile printing capability

| | |
| --- | --- |
| Mobile printing services | Apple AirPrint™; Google Cloud Print™; Mobile Apps; Mopria™ Certified; Wi-Fi® Direct printing |

Networking

| | |
| --- | --- |
| Network protocols, supported | Via built-in networking solution: TCP/IP, IPv4, IPv6; print: TCP-IP port 9100 Direct Mode, LPD (raw queue support only), Web Services Printing; discovery: SLP, Bonjour, Web Services Discovery; IP Config: IPv4 (BootP, DHCP, AutoIP, Manual), IPv6 (Stateless Link-Local and via Router, Stateful via DHCPv6); management: SNMPv1/v2/v3, HTTP |

Paper handling

| | |
| --- | --- |
| Input capacity | Up to 150 sheets |
| Standard input capacity (envelopes) | Up to 10 |
| Output capacity | Up to 100 sheets |
| Media sizes supported (metric) | A4; A5; A5(LEF); B5 (JIS); Oficio; Envelope (DL, C5); 76 x 127 to 216 x 356mm |
| Media sizes supported (U.S. standard) | Letter; Legal; Executive; Oficio 216x340mm, Oficio 8.5x13 in, Envelope (No.10, Monarch); 4x6 in |
| Media sizes, custom (metric) | 76 x 127 to 216 x 356 mm |
| Media sizes, custom (U.S. standard) | 3 x 5 to 8.5 x 14 in |
| Media types | Plain, Thick, Thin, Cotton, Color, Preprinted, Recycled, Labels, CardStock, Bond, Archive, Envelope |
| Media weight supported (metric) | 60 to 163 g/m² |
| Media weight supported (U.S. standard) | 16 to 43 lb |

Physical dimensions

| | |
| --- | --- |
| Maximum dimensions (W x D x H, metric) | 331 x 350 x 248 mm |
| Maximum dimensions (W x D x H, U.S. standard) | 13.03 x 13.78 x 9.76 in |
| Weight (metric) | 4.16 kg |
| Weight (U.S. standard) | 9.17 lb |

Power

| | |
| --- | --- |
| Energy savings feature technology | HP Auto-On/Auto-Off Technology; Power save |
| Power supply type | Internal (built-in) Power Supply |
| Power supply | 110-volt input voltage: 110 to 127 VAC, 50/60Hz and 220-volt input voltage: 220 to 240 VAC, 50/60Hz |
| Power consumption | 320 watts (Active Printing), 33 watts (Ready), 1.1 watts (Sleep), 0.2 watts (Manual off), 0.2 watts (Auto off/Manual on) |

Print cartridges

| | |
| --- | --- |
| Number of print cartridges | 1 (black) |
| Replacement cartridges | HP 105A Black Original Laser Toner Cartridge ( 1000 yield) W1105A; HP 106A Black Original Laser Toner Cartridge ( 1000 yield) W1106A; HP 107A Black Original Laser Toner Cartridge ( 1000 yield) W1107A |

Printing specifications

| | |
| --- | --- |
| Print technology | Laser |
| Duplex printing | Manual (driver support provided) |
| Print resolution (best) | Up to 1,200 x 1,200 dpi |
| Maximum print area (metric) | 216 x 356 mm |
| Monthly duty cycle | Up to 10,000 pages |
| Print languages | SPL |
| Printer smart software features | Manual duplex, N-up printing, collation, watermarks, accepts a variety of paper sizes and types |

Regulatory specifications

| | |
| --- | --- |
| Regulatory model number | SEOLA-1802-01 |
| Safety | IEC 60950-1: 2005 +A1: 2009 +A2 2013 (International); EN 60950-1: 2006 +A11: 2009 +A1: 2010 +A12: 2011 +A2: 2013 (EU); IEC/EN 60825-1: 2014 (Class 1 Laser Product); EN 62479: 2010 /IEC 62749: 2010; Low Voltage Directive 2006/95/EC with CE Mark (Europe); GS Certificate (Germany, Europe); UL/cUL Listed and UC CoC (US/Canada); CAN/CSA C22.2 No. 60950-1-07 2nd Ed. 2014-10; Compliance with Laser safety standards 21 CFR 1002.10 and 1002.11 except for deviations pursuant to Laser notice No. 50, Dated June 24, 2007; Other safety approvals as required by individual countries |
| Electromagnetic compatibility | EN 61000-3-2: 2014, EN 61000-3-3: 2013, EN55024: 2010, EN 55032: 2012/AC: 2013, 47 CFR Part 15, Subpart B I ANSI C63.4-2009, ICES-003 Issue 5, KN32, KN35, GB/T 9254-2008, GB17625.1-2012, CISPR22: 2008, CISPR32: 2012,CNS 13438 (Other EMC approvals as required by individual countries.) |

Security

| | |
| --- | --- |
| Security management | Password-protected network embedded Web server; enable/disable Network ports; SNMPv1 community password change; SNMPV2&V3; IPSec; Filtering : MAC, IPv4, IPv6 |

System requirements

| | |
| --- | --- |
| Minimum system requirements for Windows | Windows 7 or newer, Intel® Pentium® IV 1 GHz 32-bit or 64-bit processor or higher, 1 GB RAM, 16 GB HDD |
| Compatible Network Operating Systems | Windows®: 7 (32/64 bit), 2008 Server R2, 8 (32/64 bit),10 (32/64 bit), 2012 Server, 2016 Server |
| Operating system (supported note) | Windows 7 or higher |

| | |
| --- | --- |
| Model name | HP DeskJet Ink Advantage Ultra 4828 Printer |
| Product number | 25R76A |

What's included and accessories

What's in the box

HP DeskJet Ink Advantage Ultra 4828 All-in-One Printer; HP 47 Black Cartridge; HP 47 Tri-Color Ink Cartridge; Setup guide; Reference guide; USB cable; Power cord [For ink volume and page yield information,visit 

http://hp.com/go/learnaboutsupplies

 ]

Accessories

None

Connectivity

| | |
| --- | --- |
| Ports | 1 Hi-Speed USB 2.0 |
| Wireless capability | Yes, built-in Wi-Fi 802.11a/b/g/n |
| Storage device and direct print support | Storage devices not supported |

Copy

| | |
| --- | --- |
| Copier settings | Auto-enlarge |
| Color copy capability | Yes |
| Maximum number of copies | Up to 9 copies |
| Copy reduce / enlarge settings | Via HP Smart app |
| Copy resolution | Up to 300 x 300 dpi |

Environmental

| | |
| --- | --- |
| Acoustic power emissions (active, printing) | 6.4 B(A) |
| Acoustic pressure emissions | 54 dB(A) (printing at 5 ppm) |
| Recommended operating humidity range | 20 to 80% RH (non-condensing) |
| Non-Operating Humidity Range | 5 to 90% RH (non-condensing) |
| Recommended operating temperature range (Celsius) | 15 to 30°C |
| Recommended operating temperature range (Fahrenheit) | 59 to 86°F |
| Storage temperature range (Celsius) | -40 to 60°C |
| Storage temperature range (Fahrenheit) | -40 to 140°F |
| Environmental specifications | 20% post-consumer recycled plastic; Recyclable through HP Planet Partners |

Memory

| | |
| --- | --- |
| Memory | 64 MB |
| Maximum Memory | 64 MB DDR1; 20 MB flash |
| Memory card compatibility | No |

Mobile printing capability

| | |
| --- | --- |
| Mobile printing services | Apple AirPrint™; Chrome OS; HP Smart app; Mopria-certified |

Paper handling

| | |
| --- | --- |
| Input capacity | Up to 60 sheets |
| Standard input capacity (cards) | Up to 20 cards |
| Output capacity | Up to 25 sheets |
| Media sizes supported (metric) | A4; B5; A6; DL envelope |
| Media sizes supported (U.S. standard) | Letter; legal; 4 x 6 in; 5 x 7 in; 8 x 10 in; No. 10 envelopes |
| Media sizes, custom (U.S. standard) | 2 x 5 to 8.5 x 14 in |
| Media types | Plain paper, photo paper, brochure paper, envelopes and other specialty inkjet papers |
| Media weight supported (metric) | A4: 60 to 90 g/m²; HP envelopes: 75 to 90 g/m²; HP cards: up to 200 g/m²; HP 10 x 15 cm photo paper: up to 300 g/m² |
| Media weight supported (U.S. standard) | 19 lb |
| Borderless printing | No |

Paper handling - ADF

| | |
| --- | --- |
| Automatic document feeder capacity | Standard, 35 sheets |

Paper handling - duplexer

| | |
| --- | --- |
| Media sizes, duplex (U.S. standard) | Not Applicable |

Physical dimensions

| | |
| --- | --- |
| Maximum dimensions (W x D x H, metric) | 424 x 555 x 245 mm Output Extension full out |
| Maximum dimensions (W x D x H, U.S. standard) | 16.7 x 21.9 x 9.7 in Output Extension full out |
| Weight (metric) | 3.42 kg |
| Weight (U.S. standard) | 7.55 lb |

Power

| | |
| --- | --- |
| Power supply type | Internal |
| Power supply | Input voltage: 200 to 240 VAC (+/- 10%), 50/60 Hz (+/- 3Hz) |
| Power consumption | 1.0 watts (sleep), 0.1 watts (off), 0.1 watts (auto-off) |

Print cartridges

| | |
| --- | --- |
| Number of print cartridges | 2 (1 each black, tri-color) |
| Replacement cartridges | HP 47 Black Original Ink Advantage Cartridge (~1,500pgs yield) 6ZD21A; HP 47 Tri-color Original Ink Advantage Cartridge (~750pgs yield) 6ZD20A |

Printing specifications

| | |
| --- | --- |
| Print technology | HP Thermal Inkjet |
| Duplex printing | Manual (driver support provided) |
| Print speed black (ISO) | Up to 7.5 ppm |
| Print speed color (ISO) | Up to 5.5 ppm |
| Print resolution (best) | Up to 4800 x 1200 optimized dpi color (when printing from a computer on selected HP photo papers and 1200 input dpi) |
| Maximum print area (metric) | 215 x 355 mm |
| Monthly duty cycle | Up to 1000 pages |
| Print languages | HP PCL 3 GUI; HP PCLm (HP Apps/UPD); URF (AirPrint) |

Regulatory specifications

| | |
| --- | --- |
| Ecolabels | No |
| Safety | IEC 60950-1:2005 +A1:2009 +A2:2013, EN 60950-1:2006 +A11:2009 +A1:2010 +A12:2011 +A2:2013, IEC 62368-1:2014, EN 62368-1:2014 +A11:2017, EN 62479:2010, EN 62311:2007 |
| Electromagnetic compatibility | EN 55032:2015 / CISPR 32:2015 Class B, EN 55024:2010 / CISPR 24:2010, EN 55035:2017 / CISPR 35:2016, EN 61000-3-2:2014 / IEC 61000-3-2:2014, EN 61000-3-3:2013 / IEC 61000-3-3:2013, FCC CFR 47 Part 15 Class B, ICES-003, Issue 6 Class B, EN 301 489-1 V2.1.1:2017, EN 301 489-17 V3.1.1:2016 |
| Telecom compliance (fax capability) | N/A |

Scan

| | |
| --- | --- |
| Scan technology | Contact Image Sensor (CIS) |
| Scan speed (normal) | N/A |
| Scan resolution, hardware | Up to 1200 x 1200 dpi |
| Levels of grayscale | 256 |
| Bit depth | 24-bit |
| Scanning options (ADF) | Single-sided |
| Maximum flatbed scan size (metric) | 216 x 297 mm |
| Maximum flatbed scan size (U.S. standard) | 8.5 x 11.69 in |
| Twain version | Version 2.1 |

System requirements

| | |
| --- | --- |
| Minimum system requirements for Windows | Windows 10, Windows 7 Service Pack 1 (SP1): 32-bit or 64-bit, 2 GB available hard disk space |
| Recommended system requirements for Windows | Microsoft® Windows® 10, Windows 7 Service Pack 1 (SP1): 32-bit or 64-bit, 2 GB available hard disk space |
| Minimum System Requirements for Macintosh | macOS v10.14 Mojave, macOS v10.15 Catalina, macOS v11 Big Sur; 2 GB HD |
| Recommended Macintosh system requirements | macOS v10.14 Mojave, macOS v10.15 Catalina, macOS v11 Big Sur; 2 GB HD |
| Compatible Network Operating Systems | Windows 10, Windows 7 Service Pack 1 (SP1); macOS v10.14 Mojave, macOS v10.15 Catalina, macOS v11 Big Sur, Chrome OS |

Warranty

| | |
| --- | --- |
| Manufacturer Warranty | One-year limited hardware warranty |

Weight
N/A
N/A
N/A
N/A
N/A
N/A
Dimensions
N/A
N/A
N/A
N/A
N/A
N/A
Additional information

| | |
| --- | --- |
| Product Type | Printer |
| Model Number | HP DesignJet T230 |
| Printing Color | Colored |
| Functions | Print |
| Color | Black |
| Warranty Period | 24 Months |
| Part Number | 5HB07A |
| Brand | HP |

| | |
| --- | --- |
| Product Type | Printer |
| Model Number | HP Ink Tank Wireless |
| Connectivity | USB, Wi-Fi Direct, Wireless |
| Network and Communication | -- |
| Printing Color | Colored |
| Print Speed Black | Upto19ppm |
| Print speed color | Upto15ppm |
| Functions | Print, ScanandCopy, wireless |
| Color | Black |
| Warranty Period | 12 Months |
| Part Number | Z4B53A |
| Brand | HP |

| | |
| --- | --- |
| Product Type | Printer |
| Model Number | Smart Tank 530 |
| Connectivity | -- |
| Network and Communication | -- |
| Printing Color | Colored |
| Print Speed Black | -- |
| Print speed color | -- |
| Functions | ADF, Copy, Print, Scan, wireless |
| Color | Black |
| Warranty Period | 12 Months |
| Part Number | 4SB24A |
| Brand | HP |

| | |
| --- | --- |
| Product Type | Printer |
| Model Number | i-SENSYS LBP220 series |
| Printing Color | Black |
| Functions | Print |
| Color | White |
| Warranty Period | 24 Months |
| Part Number | 3516C008AA |
| Brand | Canon |

| | |
| --- | --- |
| Product Type | Printer |
| Model Number | HP Laser 107W |
| Connectivity | Hi-Speed USB 2.0 port, Wireless 802.11 b/g/n |
| Network and Communication | -- |
| Printing Color | Black |
| Print Speed Black | Up to 20 ppm |
| Print speed color | -- |
| Functions | Print |
| Color | White |
| Warranty Period | 12 Months |
| Part Number | 4ZB78A |
| Brand | HP |

| | |
| --- | --- |
| Product Type | Printer |
| Model Number | Ultra 4828 |
| Connectivity | 1 Hi-Speed USB 2.0 |
| Network and Communication | -- |
| Printing Color | Colored |
| Print Speed Black | up to 8.5 ppm |
| Print speed color | Up to 5.5 ppm |
| Functions | Copy, Print, Scan, wireless |
| Color | White |
| Warranty Period | 12 Months |
| Part Number | 25R76A |
| Brand | HP |