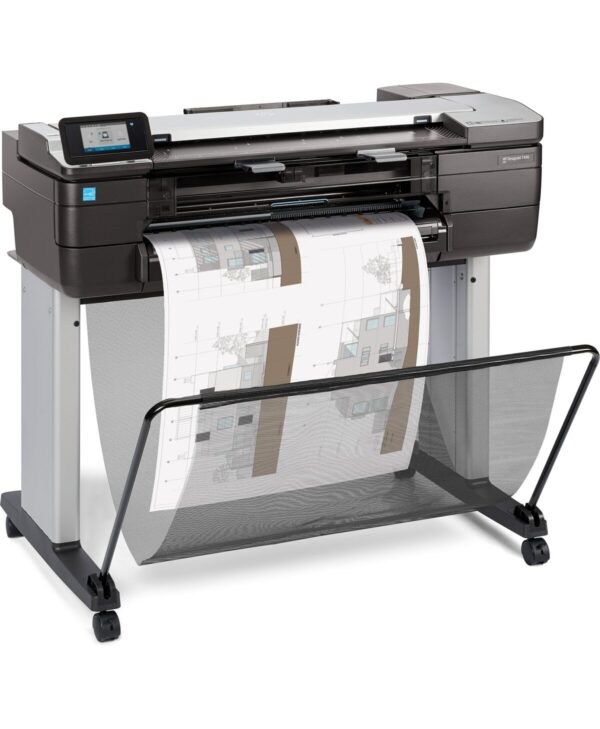 HP Designjet T830 Multifunction 36″ Printer (F9A30D)

Additional information
| | |
| --- | --- |
| Product Type | Printer |
| Model Number | HP Designjet T830 |
| Printing Color | Colored |
| Functions | Print |
| Color | Black |
| Warranty Period | 24 Months |
| Part Number | F9A30D |
| Brand | HP |
Description
CONVENIENT – Fast, agile, intuitive print/scan/copy
The most compact 610 mm (24 in) MFP – with a sleek integrated design – is ideal for the office and construction job site. Print A1 size in 26 seconds. Print easily with HP Click software, and print from s smartphone or tablet with HP Mobile Printing.
TRUSTED – HP DesignJet quality and reliability
This reinforced, all-in-one printer with smart scanning handles all your document management from office to construction site. Get HP DesignJet print quality in half-size documents with the A4/A3 input tray. A redesigned stand reduces C02e.
COMMUNICATION – Immediately share meeting results
Enhance communication with peers/partners. With an intuitive single touchscreen, you can scan, copy, and share drawings immediately. Scan/email from the front panel. Use HP Smart app to email contacts or post to cloud from your smartphone, tablet.
Only logged in customers who have purchased this product may leave a review.
Quick Comparison
Settings
HP Designjet T830 Multifunction 36" Printer (F9A30D)

remove

HP OfficeJet Pro 7720 Wide Format All-in-One PRINTER (Y0S18A)

remove

HP DesignJet T1700 44-in Printer (W6B55A)

remove

HP OfficeJet Pro 8023 All-in-One Printer (1kR64B)

remove

HP LaserJet M111a Printer (7MD67A)

remove

HP DeskJet Ink Advantage 3790 Allin-One Printer (T8W47C)

remove

Name
HP Designjet T830 Multifunction 36" Printer (F9A30D)

remove

HP OfficeJet Pro 7720 Wide Format All-in-One PRINTER (Y0S18A)

remove

HP DesignJet T1700 44-in Printer (W6B55A)

remove

HP OfficeJet Pro 8023 All-in-One Printer (1kR64B)

remove

HP LaserJet M111a Printer (7MD67A)

remove

HP DeskJet Ink Advantage 3790 Allin-One Printer (T8W47C)

remove

Image
SKU
F9A30D
Y0S18A
W6B55A
1kR64B
7MD67A
T8W47C
Rating
Price

SAR

1126

SAR

873

SAR

620

SAR

443
Stock
Availability
Add to cart
Description
Content

CONVENIENT – Fast, agile, intuitive print/scan/copy

The most compact 610 mm (24 in) MFP – with a sleek integrated design – is ideal for the office and construction job site. Print A1 size in 26 seconds. Print easily with HP Click software, and print from s smartphone or tablet with HP Mobile Printing.

TRUSTED – HP DesignJet quality and reliability

This reinforced, all-in-one printer with smart scanning handles all your document management from office to construction site. Get HP DesignJet print quality in half-size documents with the A4/A3 input tray. A redesigned stand reduces C02e.

COMMUNICATION – Immediately share meeting results

Enhance communication with peers/partners. With an intuitive single touchscreen, you can scan, copy, and share drawings immediately. Scan/email from the front panel. Use HP Smart app to email contacts or post to cloud from your smartphone, tablet.

| | |
| --- | --- |
| Model name | HP OfficeJet Pro 7720 Wide Format All-in-One Printer |
| Product number | Y0S18A |

Connectivity

| | |
| --- | --- |
| Ports | 1 USB 2.0 with compatibility with USB 3.0 devices; 1 Ethernet; 1 Wireless 802.11 b/g/n; 2 RJ-11 modem ports |
| Wireless capability | Yes, built-in WiFi 802.11 b/g/n |

Copy

| | |
| --- | --- |
| Copier settings | Copies; Size; Quality; Lighter/Darker; Paper size; Resize; Paper Type; Two-sided; ID Copy, Collate; Binding Margin; Enhancement; Crop; Copy Preview |
| Color copy capability | Yes |
| Maximum number of copies | Up to 99 copies |
| Copy reduce / enlarge settings | 25 to 400% |
| Copy speed, black (draft, A4) | Up to 34 cpm |
| Copy speed, black (draft, Letter) | Up to 34 cpm |
| Copy resolution | Up to 600 dpi |

Fax

| | |
| --- | --- |
| Fax available | Yes, color |
| Fax features | Color fax; auto reduction; auto redial; speed dial; group speed dial; junk barrier; forwarding (black only); distinctive ring; delayed send (black only); scan and fax; PC fax send and receive |
| Fax resolution | Up to 300 x 300 dpi |
| Fax memory | Up to 100 pages |
| Fax telephone mode supported | Yes |
| Modem | Up to 33.6 kbps |
| Speed dials, maximum number | Up to 99 numbers |
| Fax transmission speed | 5 sec per page |

Mobile printing capability

| | |
| --- | --- |
| Mobile printing services | Apple AirPrint, HP ePrint, Wireless direct printing, Mopria-certified and Google Cloud Print |

Networking

| | |
| --- | --- |
| Network protocols, supported | IPv4, IPv6, Bonjour, Custom Raw Port/Port9100, mDNS, Embedded Web Server, Wireless Network Supported, SLP, WS-Print, Wireless b/g/n, WEP/WPA (AES), SNMP, Internet Printing Protocol |

Paper handling

| | |
| --- | --- |
| Input capacity | Up to 250 sheets |
| Standard input capacity (cards) | Up to 50 sheets |
| Standard input capacity (envelopes) | Up to 30 |
| Output capacity | Up to 75 sheets |
| Media sizes, custom (metric) | 76 x 127 to 297 x 420 mm |
| Media sizes, custom (U.S. standard) | 3 x 5 to 11.7 x 17 in |
| Media types | Plain Paper, HP Photo Papers, HP Matte Brochure or Professional Paper, HP Matte Presentation Paper, HP Glossy Brochure or Professional Paper, Other Matte Inkjet Papers, Other Glossy Inkjet Papers, Inkjet Hagaki, Plain Paper Thick, Plain Paper Light/Recycled |
| Media weight supported (metric) | 60 to 105 g/m² |
| Media weight supported (U.S. standard) | 16 to 28 lb, bond |
| Borderless printing | Yes (up to A3/11 x 17 in) |

Paper handling - ADF

| | |
| --- | --- |
| Automatic document feeder capacity | Standard, 35 sheets |

Paper handling - duplexer

| | |
| --- | --- |
| Media sizes, duplex (U.S. standard) | Letter |

Physical dimensions

| | |
| --- | --- |
| Maximum dimensions (W x D x H, metric) | 584.9 x 444.8 x 306.4 mm (Cleanout +OP tray not extended); 584.9 x 690.6 x 306.4 mm (Cleanout + OP tray fully extended) |
| Maximum dimensions (W x D x H, U.S. standard) | 23.0 x 17.5 x 12.1 in (Cleanout + OP tray not extended); 23.0 x 27.2 x 12.1 in (Cleanout + OP tray fully extended) |
| Weight (metric) | 15.50 kg |
| Weight (U.S. standard) | 34.10 lb |

Power

| | |
| --- | --- |
| Power supply | Input voltage: 100 to 240 VAC (+/- 10%), 50/60 Hz |

Print cartridges

| | |
| --- | --- |
| Number of print cartridges | 4 (1 each black, cyan, magenta, yellow) |
| Replacement cartridges | NA: HP 952 Black Ink Cartridge (~1000 pages); HP 952 CMY Ink Cartridge (~700 pages); HP 952XL Black Ink Cartridge (~2000 pages); HP 952XL CMY Ink Cartridge (~1600 pages): HP 956XL Black Ink Cartridge (~3000 pages); EMEA: HP 953 Black Ink Cartridge (~1000 pages); HP 953 CMY Ink Cartridge (~700 pages); HP 953XL Black Ink Cartridge (~2000 pages); HP 953XL CMY Ink Cartridge (~1600 pages); HP 957XL Black Ink Cartridge (~3000 pages); LAR: HP 954 Black Ink Cartridge (~1000 pages); HP 954 CMY Ink Cartridge (~700 pages); HP 954XL Black Ink Cartridge (~2000 pages); HP 954XL CMY Ink Cartridge (~1600 pages); HP 958XL Black Ink Cartridge (~3000 pages); AP: HP 955 Black Ink Cartridge (~1000 pages); HP 955 CMY Ink Cartridge (~700 pages); HP 955XL Black Ink Cartridge (~2000 pages); HP 955XL CMY Ink Cartridge (~1600 pages); HP 959XL Black Ink Cartridge (~3000 pages) |

Printing specifications

| | |
| --- | --- |
| Print technology | HP Thermal Inkjet |
| Duplex printing | Automatic (A4/Letter) |
| Print speed (black, draft, Letter) | Up to 34 ppm |
| Print speed (color, draft, Letter) | Up to 34 ppm |
| Print speed black (ISO) | Up to 22 ppm |
| Print speed color (ISO) | Up to 18 ppm |
| Print resolution (best) | Up to 1200 x 1200 rendered dpi |
| Maximum print area (metric) | 297 x 431.8 mm |
| Maximum print area (U.S. standard) | 11.7 in |
| Monthly duty cycle | Up to 30,000 pages |
| Print languages | HP PCL3 GUI |

Regulatory specifications

| | |
| --- | --- |
| Regulatory model number | SNPRC-1500-02 |

Scan

| | |
| --- | --- |
| Scan technology | CIS |
| Scan speed (normal) | Simplex: Up to 8/8 ipm (B&W/Color 200 ppi) |
| Scan resolution, hardware | Up to 1200 x 1200 dpi |
| Levels of grayscale | 256 |
| Bit depth | 24-bit |
| Maximum flatbed scan size (metric) | 216 x 356 mm |
| Maximum flatbed scan size (U.S. standard) | 8.5 x 14 in |
| Maximum ADF scan size (metric) | 216 x 356 mm |
| Maximum ADF scan size (U.S. standard) | 8.5 x 14 in |
| Twain version | Version 1.9 |

System requirements

Minimum system requirements for Windows

Windows 10, 8, 7: 1 GHz 32-bit (x86) or 64-bit (x64) processor, 2 GB available hard disk space, CD-ROM/DVD drive or Internet connection, USB port, Microsoft Internet Explorer. Windows Vista (32-bit only): 800 MHz 32-bit (x86) processor, 2 GB available hard disk space, CD-ROM/DVD drive or Internet connection, USB port, Microsoft Internet Explorer 8. Windows XP SP3 or higher (32-bit only): any Intel Pentium II, Celeron or 233 MHz compatible processor, 850 MB available hard disk space, CD-ROM/DVD drive or Internet connection, USB port, Internet Explorer 8.

Recommended system requirements for Windows

Windows 10, 8, 7: 1 GHz 32-bit (x86) or 64-bit (x64) processor, 2 GB available hard disk space, CD-ROM/DVD drive or Internet connection, USB port, Microsoft Internet Explorer. Windows Vista (32-bit only): 800 MHz 32-bit (x86) processor, 2 GB available hard disk space, CD-ROM/DVD drive or Internet connection, USB port, Microsoft Internet Explorer 8. Windows XP SP3 or higher (32-bit only): any Intel Pentium II, Celeron or 233 MHz compatible processor, 850 MB available hard disk space, CD-ROM/DVD drive or Internet connection, USB port, Internet Explorer 8.

Minimum system requirements for Macintosh

Mac OS X v10.12 (Sierra), v10.11 (EI Capitan), v10.10 (Yosemite); 1 GB hard drive; Internet access

Recommended Macintosh system requirements

Mac OS X v10.12 (Sierra), v10.11 (El Capitan), v10.10 (Yosemite); 1 GB hard drive; Internet access

Compatible network operating systems

Windows 10 (32-bit and 64-bit), Windows 8.1 (32-bit and 64-bit), Windows 8 (32-bit and 64-bit), Windows 7 (32-bit and 64-bit), Windows Vista (32-bit and 64-bit), Windows XP (32-bit) (Professional and Home Editions); Mac OS X v 10.8, v 10.9 or v 10.10; Linux (For more information, see 

http://hplipopensource.com/hplip-web/index.html

).

Operating system (supported note)

Windows 10 (32-bit and 64-bit), Windows 8.1 (32-bit and 64-bit), Windows 8 (32-bit and 64-bit), Windows 7 (32-bit and 64-bit), Windows Vista (32-bit and 64-bit), Windows XP (32-bit) (Professional and Home Editions); Mac OS X v 10.8, v 10.9 or v 10.10; Linux (For more information, see 

http://hplipopensource.com/hplip-web/index.html

).

SECURE – Protect your work and your information

Protect your printer and your data from external or unintended access with advanced security features. Simplify device and fleet management, including security management. Control and optimise printing costs with accounting solutions.

EFFICIENT – No more PC freezing up

Stay productive – with the Adobe PDF driver , you can handle even the most complex CAD/GIS files without freezing up your PC. Work uninterrupted with dual-roll options.  Easily print project sets and PDF documents with HP Click printing software.

ACCURATE – Make better decisions with precise colours

For complex CAD/GIS files, precise colours enable better decisions. Six HP Bright Office Inks provide bright colour, bold image quality, colour/grey/photo black for soft colours, dark tones.Reproduce layers of data with the Adobe PDF Print Engine. 

SPECIFICATION

| | |
| --- | --- |
| Brand | HP |
| Model Number | 1KR64B |
| Printer Functions | Print, Copy, Scan & Fax |
| Type | Ink jet |
| Color | White |
| Connectivity | USB, Ethernet & Wi-Fi |
| Speed | 21 ppm |
| weight | 10.01 kg |
| MPN | 1KR64B |
| Replacement Cartridges | HP 912 Black Original Ink Cartridge (~300 pages) 3YL80AE HP 912 Cyan Original Ink Cartridge (~315 pages) 3YL77AE HP 912 Magenta Original Ink Cartridge (~315 pages) 3YL78AE HP 912 Yellow Original Ink Cartridge (~315 pages) 3YL79AE HP 912XL Black Original Ink Cartridge (~825 pages) 3YL84AE HP 912XL Cyan Original Ink Cartridge ( ~825 pages) 3YL81A HP 912XL Magenta Original Ink Cartridge ( ~825 pages) 3YL82A HP 912XL Yellow Original Ink Cartridge ( ~825 pages) 3YL83A HP 917XL Black Original Ink Cartridge (~1500 pages) 3YL85AE |
| Package Dimension (W, H, L ) in cm | 23.4 x 34.12 x 46 |
| Warranty | 1 year warranty |
| | |

Print technology
Print technology
Laser Black
Functions
Functions
Print
Specifications
Print speed black
Normal: Up to 20 ppm
First page out (ready)
Black: As fast as 8.5 sec
Duty cycle (monthly, A4)
Up to 8 000 pages
Print quality (best)
Up to 600 x 600 dpi
Display
LED
Processor speed
500 MHz
Print languages
PCLm/PCLmS URF PWG
Automatic paper sensor
No
Replacement cartridges
HP 150A Black LaserJet Toner Cartridge (~975) W1500A
Connectivity
Mobile printing capability
NO
Wireless capability
NO
Connectivity, standard
Hi-Speed USB 2.0 port
Memory specifications
Memory, standard
16 MB
Maximum Memory
16 MB
Paper handling
Paper handling input, standard
150-sheet input tray
Paper handling output, standard
100-sheet output tray
Duplex printing
NO
Media sizes supported
A4; A5; A6; B5
Power and operating requirements
Power
Input voltage: 220 to 240 VAC (+/- 10%) 50/60 Hz (+/- 2 Hz)
Power consumption
320 watts (Active Printing) 33 watts (Ready) 1.1 watts (Sleep) 0.2 watts (Manual Off) 0.2 watts (Auto Off/Manual On)
Energy efficiency
ENERGY STAR® qualified
Operating temperature range
10 to 30°C
After Sales Support
Warranty
1 Year

Weight
N/A
N/A
N/A
N/A
N/A
N/A
Dimensions
N/A
N/A
N/A
N/A
N/A
N/A
Additional information

| | |
| --- | --- |
| Product Type | Printer |
| Model Number | HP Designjet T830 |
| Printing Color | Colored |
| Functions | Print |
| Color | Black |
| Warranty Period | 24 Months |
| Part Number | F9A30D |
| Brand | HP |

| | |
| --- | --- |
| Product Type | Printer |
| Model Number | HP OfficeJet Pro 7720 |
| Connectivity | USB 2.0 with compatibility with USB 3.0 devices; 1 Ethernet; 1 Wireless 802.11 b/g/n; 2 RJ-11 modem ports |
| Network and Communication | -- |
| Printing Color | Black |
| Print Speed Black | Up to 34 cpm |
| Print speed color | -- |
| Functions | Copy, fax, Print, Scan |
| Color | White |
| Warranty Period | 12 Months |
| Part Number | Y0S18A |
| Brand | HP |

| | |
| --- | --- |
| Product Type | Printer |
| Model Number | HP DesignJet T1700 |
| Printing Color | Colored |
| Functions | Print |
| Color | -- |
| Warranty Period | 24 Months |
| Part Number | W6B55A |
| Brand | HP |

| | |
| --- | --- |
| Product Type | Printer |
| Model Number | 8023 |
| Connectivity | Standard: 1 Ethernet; 1 Wireless 802.11b/g/n; 1 RJ-11 Fax; |
| Network and Communication | -- |
| Printing Color | Colored |
| Print Speed Black | UP TO 21 ppm |
| Print speed color | -- |
| Functions | Copy, fax, Print, Scan |
| Color | White |
| Warranty Period | 12 Months |
| Part Number | 1kR64B |
| Brand | HP |

| | |
| --- | --- |
| Product Type | Printer |
| Model Number | HP LaserJet M111a Printer |
| Connectivity | 1 Hi-Speed USB (compatible with USB 2.0 specifications) |
| Network and Communication | -- |
| Printing Color | Black |
| Print Speed Black | Up to 150 sheets |
| Print speed color | -- |
| Functions | Print |
| Color | White |
| Warranty Period | 12 Months |
| Part Number | 7MD67A |
| Brand | HP |

| | |
| --- | --- |
| Product Type | Printer |
| Model Number | HP DeskJet Ink Advantage 3790 All-in-One Printer |
| Connectivity | Network, Wired, Wireless |
| Network and Communication | built-in Wi-Fi 802.11b/g/n, USB 2.0, Yes |
| Printing Color | Colored |
| Print Speed Black | Up to 8 ppm |
| Print speed color | Up to 5.5 ppm |
| Functions | Copy, Print, Scan, wireless |
| Color | Dark Blue |
| Warranty Period | 12 Months |
| Part Number | T8W47C |
| Brand | HP |