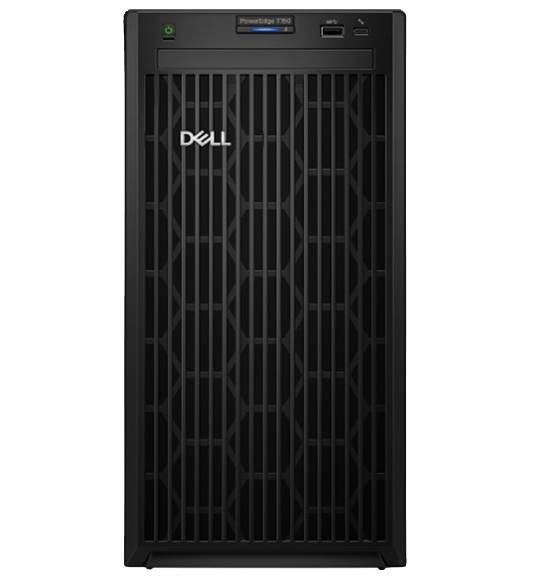 PowerEdge T150 Server: Intel Xeon E-2314 2.8GHz, 8M Cache, 4C/4T, Turbo (65W), 3200 MT/s / 3.5″ Chassis up to 4 Cabled Hard Drives and Software RAID /8GB UDIMM, 3200MT/s, ECC / 1TB 7.2K RPM SATA Entry 3.5in Hot-Plug Hard Drive /No Internal Optical Drive/ iDRAC9, Basic 15G / On-Board LOM / Basic 3Yr NBD (PET1501A-X)

Description
Tech Specs & Customization
Processor
One Intel® Xeon® E-2300 series processor with up to 8 cores per processor
One Intel® Pentium® processor with up to 2 cores per processor
Operating System
Canonical® Ubuntu® Server LTS
Citrix® Hypervisor
Microsoft® Windows Server® with Hyper-V
RedHat® Enterprise Linux
SUSE® Linux Enterprise Server
VMware® ESXi®i
For specifications and interoperability details, see

Chipset
Intel® C256 series
Memoryi
DIMM Speed
Up to 3200 MT/s
Note: For Pentium® processor, maximum memory speed supported is 2666 MT/s
Memory Type
UDIMM
Memory Module Slots
4 DDR4 DIMM slots
Maximum RAM
UDIMM 128 GB
Storage
Front Bays
Up to 4 x 3.5-inch hot swap SAS/SATA (HDD/SSD) max 30.72 TB
Storage Controllers
Internal Controllers
PERC H345, PERC H755, HBA355i
External Controllers
HBA355e, 12 Gbps SAS Ext. HBA
Software RAID
S150
Internal Boot
USB or Boot Optimized Storage Subsystem (BOSS-S1): HWRAID 2 x M.2 SSDs 240 GB or 480 GB
Security
Cryptographically signed firmware
Secure Boot
Secure Erase
Silicon Root of Trust
System Lockdown (requires iDRAC9 Enterprise or Datacenter)
TPM 1.2/2.0 FIPS, CC-TCG certified, TPM 2.0 China NationZ
Management
Embedded / At-the-Server
iDRAC9
iDRAC Service Module
iDRAC Direct
Consoles
OpenManage Enterprise
OpenManage Power Manager plugin
OpenManage SupportAssist plugin
OpenManage Update Manager plugin
Mobility
OpenManage Mobile
Tools
iDRAC RESTful API with Redfish
RACADM CLI
IPMI
System Update Utility
Update Catalogs
OpenManage Integrations
BMC Truesight
Microsoft® System Center
RedHat® Ansible Modules
VMware® vCenter and vRealize Operations Manager
OpenManage connections
IBM Tivoli® Netcool/OMNIbus
IBM Tivoli® Network Manager IP Edition
Micro Focus® Operations Manager
Nagios® Core
Nagios® XI
Power Supplies
300 W Bronze AC/100-240 V
Cabled power supply
Ports
Network Options
2 x 1 GbE LOM
Front Ports
1 x Dedicated iDRAC Direct micro-USB
1 x USB 3.0
Rear Ports
5 x USB 2.0
1 x USB 3.0
1 x VGA
1 x Serial Port
1 x iDRAC dedicated NIC port
2 x NIC port
Internal ports
1 x USB 3.0 (optional)
Slots
PCIe
2 x PCIe Gen4 slots and 2 x PCIe Gen3 slots
Form Factor
4U mini tower server
Dimensions & Weight
Height: 360 mm (14.17 in.)
Width: 175 mm (6.88 in.)
Depth: 453.75 mm (33.48 in.) with bezel
Weight: 11.68 kg (25.74 lbs.)i
Rack Support
System is optimized to fit into EIA-310 spec Racks. Dell does not offer specific rails for this platform.
Recommended Support
Choose Dell ProSupport Plus for critical systems or Dell ProSupport for premium hardware and software support for your PowerEdge solution. Consulting and deployment offerings are also available. Contact your Dell representative today for more information. Availability and terms of Dell Services vary by region.
Only logged in customers who have purchased this product may leave a review.
Quick Comparison
Settings
PowerEdge T150 Server: Intel Xeon E-2314 2.8GHz, 8M Cache, 4C/4T, Turbo (65W), 3200 MT/s / 3.5" Chassis up to 4 Cabled Hard Drives and Software RAID /8GB UDIMM, 3200MT/s, ECC / 1TB 7.2K RPM SATA Entry 3.5in Hot-Plug Hard Drive /No Internal Optical Drive/ iDRAC9, Basic 15G / On-Board LOM / Basic 3Yr NBD (PET1501A-X)

remove

Dell OptiPlex 3090 Core I5-10505 4GB RAM 1TB HDD DVD

remove

Laptop DELL VOS 3515 AMD RYZEN 3–3250U 4G 128SSD 15"

remove

Sophos Central Intercept X Advanced for Server

remove

Dell Vostro 3510 Core I5-1135G7 4GB RAM 2GB VGA 256GB SSD 15.6″ Dos Black

remove

Dell P2422H Professional Computer Monitor 23.8-Inch Full HD 1920x1080 Resolution, WLED Backlight Technology, IPS Panel Type, 60Hz Refresh Rate, 8ms Response Time, Adjustable Stand, Multiple ports - Black

remove

Name
PowerEdge T150 Server: Intel Xeon E-2314 2.8GHz, 8M Cache, 4C/4T, Turbo (65W), 3200 MT/s / 3.5" Chassis up to 4 Cabled Hard Drives and Software RAID /8GB UDIMM, 3200MT/s, ECC / 1TB 7.2K RPM SATA Entry 3.5in Hot-Plug Hard Drive /No Internal Optical Drive/ iDRAC9, Basic 15G / On-Board LOM / Basic 3Yr NBD (PET1501A-X)

remove

Dell OptiPlex 3090 Core I5-10505 4GB RAM 1TB HDD DVD

remove

Laptop DELL VOS 3515 AMD RYZEN 3–3250U 4G 128SSD 15"

remove

Sophos Central Intercept X Advanced for Server

remove

Dell Vostro 3510 Core I5-1135G7 4GB RAM 2GB VGA 256GB SSD 15.6″ Dos Black

remove

Dell P2422H Professional Computer Monitor 23.8-Inch Full HD 1920x1080 Resolution, WLED Backlight Technology, IPS Panel Type, 60Hz Refresh Rate, 8ms Response Time, Adjustable Stand, Multiple ports - Black

remove

Image
SKU
PET1501A-X
NH2PN
1100067136
SVRCIXA
Dell Vostro 3510
P2422H
Rating
Price
From

SAR

436

SAR

2450
Stock
Availability
Add to cart
Description
Content

Tech Specs & Customization

Processor

One Intel® Xeon® E-2300 series processor with up to 8 cores per processor One Intel® Pentium® processor with up to 2 cores per processor

Operating System

Canonical

®

 Ubuntu

®

 Server LTS Citrix

®

 Hypervisor Microsoft

®

 Windows Server

®

 with Hyper-V RedHat

®

 Enterprise Linux SUSE

®

 Linux Enterprise Server VMware

®

 ESXi

®i

For specifications and interoperability details, see

Chipset

Intel® C256 series

Memoryi

DIMM Speed

Up to 3200 MT/s

Note:

 For Pentium® processor, maximum memory speed supported is 2666 MT/s

Memory Type

UDIMM

Memory Module Slots

4 DDR4 DIMM slots

Maximum RAM

UDIMM 128 GB

Storage

Front Bays Up to 4 x 3.5-inch hot swap SAS/SATA (HDD/SSD) max 30.72 TB

Storage Controllers

Internal Controllers PERC H345, PERC H755, HBA355i External Controllers HBA355e, 12 Gbps SAS Ext. HBA Software RAID S150 Internal Boot USB or Boot Optimized Storage Subsystem (BOSS-S1): HWRAID 2 x M.2 SSDs 240 GB or 480 GB

Security

Cryptographically signed firmware Secure Boot Secure Erase Silicon Root of Trust System Lockdown (requires iDRAC9 Enterprise or Datacenter) TPM 1.2/2.0 FIPS, CC-TCG certified, TPM 2.0 China NationZ

Management

Embedded / At-the-Server iDRAC9 iDRAC Service Module iDRAC Direct Consoles OpenManage Enterprise OpenManage Power Manager plugin OpenManage SupportAssist plugin OpenManage Update Manager plugin Mobility OpenManage Mobile Tools iDRAC RESTful API with Redfish RACADM CLI IPMI System Update Utility Update Catalogs OpenManage Integrations BMC Truesight Microsoft® System Center RedHat® Ansible Modules VMware® vCenter and vRealize Operations Manager OpenManage connections IBM Tivoli® Netcool/OMNIbus IBM Tivoli® Network Manager IP Edition Micro Focus® Operations Manager Nagios® Core Nagios® XI

Power Supplies

300 W Bronze AC/100-240 V Cabled power supply

Ports

Network Options 2 x 1 GbE LOM Front Ports 1 x Dedicated iDRAC Direct micro-USB 1 x USB 3.0 Rear Ports 5 x USB 2.0 1 x USB 3.0 1 x VGA 1 x Serial Port 1 x iDRAC dedicated NIC port 2 x NIC port Internal ports 1 x USB 3.0 (optional)

Slots

PCIe 2 x PCIe Gen4 slots and 2 x PCIe Gen3 slots

Chassis

One fan

Bezel

Security bezel

Form Factor

4U mini tower server

Dimensions & Weight

Height: 

360 mm (14.17 in.)

Width: 

175 mm (6.88 in.)

Depth: 

453.75 mm (33.48 in.) with bezel

Weight: 

11.68 kg (25.74 lbs.)

i

Rack Support

System is optimized to fit into EIA-310 spec Racks. Dell does not offer specific rails for this platform.

Recommended Support

Choose Dell ProSupport Plus for critical systems or Dell ProSupport for premium hardware and software support for your PowerEdge solution. Consulting and deployment offerings are also available. Contact your Dell representative today for more information. Availability and terms of Dell Services vary by region.

Central Intercept X Advanced for Server is the industry's most comprehensive server protection built to stop the widest range of threats. Includes all features in Central Intercept X Essentials for Server plus multiple policies, control capabilities (Web, Peripheral, Application, DLP), and threat cases. Cloud Security Posture Management (CSPM) service for AWS, Azure, and Google Cloud includes Inventory of cloud resources, identification of insecure workload configuration, suspicious access events, and unusual network traffic vulnerabilities.

Features

Intercept X Advanced for Server

Intercept X Advanced for Server with XDR

Intercept X Advanced for Server with MDR

Intercept X Advanced for Server with MDR Complete

ATTACK SURFACE REDUCTION
Web Security
Download Reputation
Web Control / Category-based URL Blocking
Peripheral Control
Application Control
Application Whitelisting (Server Lockdown)
BEFORE IT RUNS ON DEVICE
Deep Learning Malware Detection
Anti-Malware File Scanning
Live Protection
Pre-execution Behavior Analysis (HIPS)
Potentially Unwanted Application (PUA) Blocking
Intrusion Prevention System
STOP RUNNING THREAT
Data Loss Prevention
Runtime Behavior Analysis (HIPS)
Antimalware Scan Interface (AMSI)
Malicious Traffic Detection (MTD)
Exploit Prevention
Active Adversary Mitigations
Ransomware File Protection (CryptoGuard)
Disk and Boot Record Protection (WipeGuard)
Man-in-the-Browser Protection (Safe Browsing)
Enhanced Application Lockdown
DETECT
Linux Host and Container Behavioral and Exploit Runtime Decisions
Live Discover (Cross Estate SQL Querying for Threat Hunting and IT Security Operations Hygiene)
SQL Query Library (pre-written, fully customizable queries)
Suspicious Events Detection and Prioritization
Fast Access, On-disk Data Storage (up to 90 days)
Cross-product Data Sources e.g. Firewall, Email
Cross-product Querying
Sophos Data Lake (Cloud Data Storage)

30 days

30 days

30 days

Scheduled Queries
INVESTIGATE
Threat Cases (Root Cause Analysis)
Deep Learning Malware Analysis
Advanced On-demand SophosLabs Threat Intelligence
Forensic Data Export
REMEDIATE
Automated Malware Removal
Synchronized Security Heartbeat
Sophos Clean
Live Response (remotely investigate and take action)
On-demand Endpoint Isolation
Single-click "Clean and Block"
VISIBILITY
Cloud Workload Protection (Amazon Web Services, Microsoft Azure, Google Cloud Platform)
Synchronized Application Control (visibility of applications)
Cloud Security Posture Management (monitor AWS, Azure, GCP environments)
CONTROL
Server-specific Policy Management
Update Cache and Message Relay
Automatic Scanning Exclusions
File Integrity Monitoring
MANAGED SERVICE
24/7 Lead-driven Threat Hunting
Security Health Checks
Data Retention
Activity Reporting
Adversarial Detections
Threat Neutralization and Remediation
Full-scale Incident Response: threats are fully eliminated

Requires full Sophos XDR agent (protection, detection and response)

Root Cause Analysis: performed to prevent future recurrence
Dedicated Incident Response Lead

Weight
Dimensions
N/A
N/A
N/A
N/A
N/A
N/A
Additional information

| | |
| --- | --- |
| Product Type | Desktop |
| Form Factor | Tower |
| Model Number | OptiPlex 3090 |
| Processor Type | Intel Core i5 |
| Processor Speed | 3.2 GHz |
| RAM | 4GB RAM |
| Storage Capacity | 1TB HDD |
| Graphics Card | Intel UHD Graphics 630 |
| Operating System | Dos |
| DVD Reader | Yes |
| Accessories | USB Mouse & Keyboard |
| Color | Black |
| Warranty Period | 24 Months |
| Brand | Dell |
| Part Number | NH2PN |

| | |
| --- | --- |
| Product Type | Laptop |
| Model Number | Dell Vostro 3515 |
| Processor Type | AMD RAYZN |
| Processor Speed | 2.6GHz |
| RAM | 4GB RAM |
| Storage Capacity | 128GB SSD |
| Graphics Card | -- |
| Screen Size | 15.6" Inch |
| Screen Resolution | 1920 x 1080 FHD |
| Front Camera | Yes |
| Connectivity | -- |
| Network and Communication | USB 2.0, USB 3.0, Wi-Fi (802.11) |
| Keyboard Language | Arabic, English |
| Battery Type | -- |
| Operating System | Dos |
| DVD Reader | -- |
| Color | Black |
| Warranty Period | 24 Months |
| Part Number | 1100067136 |
| Brand | Dell |

| | |
| --- | --- |
| Product Type | Security |
| Form Factor | Subscription |
| Model Number | SVRCIXA |
| Brand | Sophos |
| Subscription | 1 Year, 2 Years, 3 Years |
| Number of Users | 1 User, 5 Users, 10 Users, 15 Users, 20 Users, 30 Users, 40 Users, 50 Users, 60 Users, 70 Users, 80 Users, 90 Users, 100 Users |

| | |
| --- | --- |
| Product Type | Laptop |
| Model Number | Dell Vostro 3510 |
| Processor Type | Intel Core i5 |
| Processor Speed | 2.4 GHz |
| RAM | 4GB RAM |
| Storage Capacity | 256GB SSD |
| Graphics Card | NVIDIA GeForce® MX350 2 GB |
| Screen Size | 15.6" Inch |
| Screen Resolution | 1366 x 768 HD |
| Front Camera | Yes |
| Connectivity | -- |
| Network and Communication | Wi-Fi + Bluetooth |
| Keyboard Language | Arabic, English |
| Battery Type | Lithium Ion (Li-Ion) 3 Cell |
| Operating System | Dos |
| DVD Reader | -- |
| Color | Black |
| Warranty Period | 24 Months |
| Part Number | -- |
| Brand | Dell |

| | |
| --- | --- |
| Product Type | Monitor |
| Model Number | Dell 24 Monitor - P2422H |
| Screen Size | 23.8'' inch |
| Flat / Curved | Flat |
| Active Display Size (HxV) (mm) | ---- |
| Aspect Ratio | ---- |
| Panel Type | ---- |
| Brightness (Typical) | ---- |
| Brightness (Min) | ---- |
| Contrast Ratio Static | ---- |
| Dynamic Contrast Ratio | ---- |
| Screen Resolution | 1920 x 1080 FHD |
| Response Time | 8ms |
| Viewing Angle (H/V) | ---- |
| Color Support | ---- |
| Color Gamut (NTSC 1976) | ---- |
| Refresh Rate | 60Hz |
| Eye Care | ---- |
| Flicker Free | ---- |
| Wireless Display | ---- |
| D-Sub | ---- |
| DVI | ---- |
| Dual Link DVI | ---- |
| Display Port | ---- |
| HDMI | ---- |
| HDMI Version | ---- |
| Audio In | ---- |
| Headphone | ---- |
| USB Ports | ---- |
| USB Hub Version | ---- |
| USB-C | ---- |
| USB-C Charging Power | ---- |
| Speakers | No |
| USB Sound Bar (Ready) | ---- |
| Power Supply | ---- |
| Power Consumption (Max) | ---- |
| Color | Black |
| Warranty Period | 24 Months |
| Part Number | P2422H |
| Brand | Dell |